Front of House Finest Food Display Equipment
Tel: 0560 366 3073




Queen Victoria 60

JACKET POTATO BAKER OVEN

Mercahndiser

13amp SINGLE PHASE

FULLY RECONDITIONED

Including 12 MONTH WARRANTY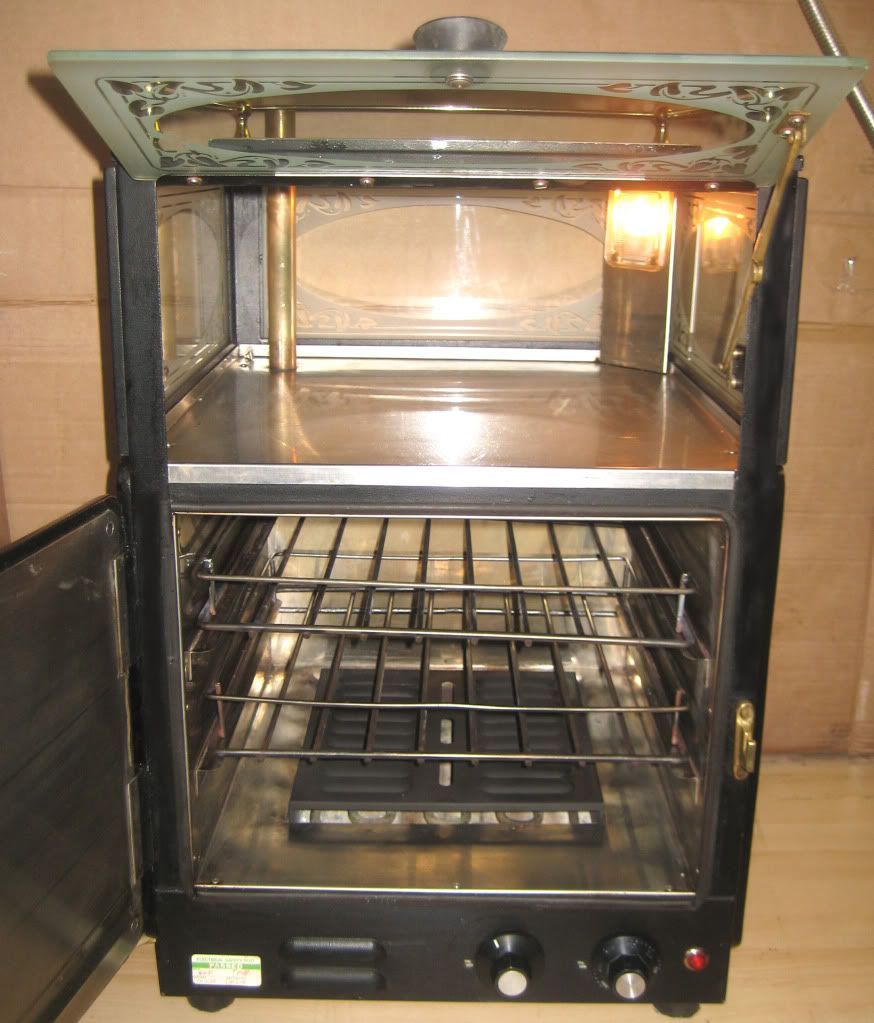 Fully serviced and in fine condition all-round.
2222222222222222222222222222222222
Countertop or Bar Top.This equipment is both an oven and merchandiser, its presence alone announces the availability of the Baked Potato Meal.The most ornate and refined Potato oven on the market. This will produce 30 large Hot, crispy Jacket potatoes an hour with storage of a further 30 in the top heated display chamber. The Queen Victoria is built to a very high standard, 306 stainless steel oven chamber, oven door and solid brass fitments. The outer case construction is of cast iron with powder coat satin finish. The power load is just 1.5kw and with the superb insulation and door gasket the heat is well preserved for the baking. The baskets slide out for loading . A warm golden lamp in the display chamber shows the ready potatoes at their best behind ornate frosted classwork. At the bottom of this listing is a list of common jacket potato filling ideas.
Features:
• 2 x Fully removable basket draws
• Illuminated heated top store
• Illuminated oven chamber•60 potato capacity
•Ceramic tiled top
•Toughened glass display cabinet
• Solid Brass fittings all-round
• LED thermostatic indicator
Power:
1.5 kw
220/230 Volt
Single Phase
13 amp plug
Performance:
Roasts 60 8onz potatoes per hour
Stores 30 8onz potatoes in hot store
Installation:
Table/bar top
Temperature Range:
Up to 40 - 280 Celsius
Weight:
50kg unloaded
Dimensions:
Width 430mm
Depth (Front to back) 30mm
Height 700mm
Oven chamber height 410mm
Oven chamber width 375mm
Oven chamber depth 375mm
Space between shelves 140mm
Condition:
Cleaned thoroughly.
Fine.
Free of any significant marks or blemishes.
Brass work polished
Free of rust.
Recondition Process:
Much care has been taken ensure this unit will pride last well into the future. All electrical components have been individually inspected and tested and all serviceable components replaced with OEM new units.
Thermostat and lamp have been newly fitted
Unit functionality and electrically PAT safety tested.
Unit fully polished.
Future proofing:
All parts are and will available for the foreseeable future. Most are industry standard.
Warranty period:
Full Parts and labour is included in the price and is for 6 months with options to extend bi/annually thereafter.
Payment:
PayPal, Cheque, Bank Transfer, cash (COC) other.
Standard B2B Process, i.e. pro-forma invoicing and stage by stage confirmations throughout the delivery process.
Delivery:
Delivery is with 3 days unless requested otherwise.
The delivery cost quoted is for main land England and Wales only. Please enquire for costs to Offshore UK and Scotland.
Delivery Insurance:
All units are covered for delivery damage and is included in the delivery price.
Collection:
Please give 24 hours notice before collection.
Returns:
All items can be returned for a full unit purchase price refund for any reason what so ever within 1 week of delivery/ collection. There is no restocking fee. Out bound and inbound delivery costs are not refundable although a credit value may be offered for the shipping cost. If the unit has been damaged due to delivery, all delivery cost will be refunded.
Contact us:
Front of House Finest Food Display Equipment
Tel: 0560 366 3073




Wondering what can go on a cost price 10p Baked Potato? Here are a few suggestions:

- Chicken in Curry Sauce
- Sausages & Baked Beans
- Chopped Egg & Sweet corn Relish (v)
- Egg Mayonnaise (v)
- Baked Beans & Ham
- Tuna & Egg Mayonnaise
- Cheese, Tomato & Onion (v)
- Broccoli & Cheese (v)
- Prawns in Cocktail Sauce
- Pizza Sauce
- Bolognaise Sauce
- Coleslaw & Cheese (v)
- Chicken in Curry Sauce
- Sausages & Baked Beans
- Chopped Egg & Sweet corn Relish (v)
- Egg Mayonnaise (v)
- Baked Beans & Ham
- Tuna & Egg Mayonnaise
- Cheese, Tomato & Onion (v)
- Cottage Cheese & Chives (v)
- Ratatouille & Cheese (v)
- Crunchy Peanut Butter & Cheese (v)
- Avocado & Prawns- Chicken in Paprika Mayonnaise
- Cheese & Ham
- Scrambled Egg & Bacon
- Chilli Con Carne
- Corned Beef Hash
- Shrimps in Tartar Sauce
- Cottage Cheese & Chives (v)
- Ratatouille & Cheese (v)
- Crunchy Peanut Butter & Cheese (v)
- Avocado & Prawns
- Chicken, Peppers & Sweet corn
- Stilton & Mayonnaise (v)
- Cheese & Mushy Peas
- Broccoli & Cheese (v)
- Prawns in Cocktail Sauce
- Chicken in Paprika Mayonnaise
- Cheese & Ham
- Scrambled Egg & Bacon
- Chilli Con Carne
- Corned Beef Hash
- Shrimps in Tartar Sauce
- Chicken, Peppers & Sweet corn
- Stilton & Mayonnaise (v)
- Smoked Ham & Tomato